Ah, brisket. The king of barbecue. The star of smoked meats. A dish that is both simple and complex, humble and regal. If you're new to cooking brisket, this guide will give you everything you need to know to get started.
Brisket is a tough cut of meat that benefits from low and slow cooking methods like smoking or braising. This guide will teach you everything you need to know about cooking brisket, from trimming and seasoning to cooking and leftovers. By the end, you'll be a brisket pro!
A Love Letter to Brisket
I absolutely love brisket. What's not to love? Here are my favorite things about brisket:
It is easy to cook.
Feeding a crowd? Brisket is your answer!
Brisket is super versatile - you can have it with all the fixins, toss it on a bun, or wrap it in a tortilla. The possibilities are endless!
Leftover brisket is just as versatile as brisket straight out of the smoker or out of the oven.
Freezing and reheating brisket is a breeze and it doesn't lose its integrity in the freezing process.
Please note: this post is strictly about beef brisket, not pork brisket (aka pork shoulder).
As an Amazon Associate I earn from qualifying purchases.
Jump to:
What is Brisket?
If you're a fan of barbecue, then you've probably had your fair share of brisket. But what exactly is brisket? Brisket is a cut of meat from the chest area of cattle or pigs. Beef brisket comes from the lower chest area, while pork brisket comes from the upper chest area. Both types of brisket are tough cuts of meat that require slow cooking in order to become tender.
Beef brisket is the more popular type of brisket, and it's often used in barbecue. It has a richer flavor than pork brisket and is less fatty. Pork brisket, on the other hand, is usually braised or stewed. It has a milder flavor than beef brisket and is more fatty.
Again, this article takes a closer look at beef brisket.
If you are interested in learning more about pork brisket, I recommend Grilling Montana's article: What is Pork Brisket and How to Cook it.
What Part of the Cow is Brisket?
The brisket comes from the breast area of the cow, just behind the forequarter. It's a large cut of meat that includes two muscle groups: the pectoralis major (aka the "thick" muscle) and the pectoralis minor (aka the "thin" muscle). These muscles are used heavily by cows, which is why they are tough and require slow cooking to break down collagen and other tough connective tissues.
Where to Buy Brisket
You can buy brisket at most grocery stores, but your best bet is to buy it from a butcher or specialty meat market. When purchasing brisket, look for a cut that has a good amount of marbling (tiny streaks of fat running through the muscle) as this will help keep the meat moist during cooking. You should also ask your butcher to trim off any excess fat before you take it home.
How Much Does Brisket Cost?
The cost of brisket varies depending on where you purchase it and the quality of the meat. However, you can expect to pay anywhere from $6-$12 per pound for a whole brisket (trimmed weight).
Brisket is a very substantial cut of meat and can feed a large crowd with ease. A whole beef brisket typically weighs between 12 and 16 lbs. If you are not feeding a crowd, some specialty meat shops (online or brick-and-mortar) may have smaller portions available for purchase.
How Much Brisket Per Person?
A good rule of thumb is to allow for ½ pound per person. This should give you enough brisket for your guests, with some left over for seconds.
Tip - if you want to save money on the amount of meat to purchase, make sandwiches and serve with inexpensive side dishes, such as Air Fryer Carrots.
Now that you know what brisket is and where to find it, let's move on to preparation!
Trimming a Brisket
Trimming a brisket is a very important step in the preparation process. If you purchase your brisket from a butcher, you can ask them to trim the brisket for you. However, if you are trimming the meat yourself, follow the steps and/or the video below. Just be sure to use a good, sharp knife.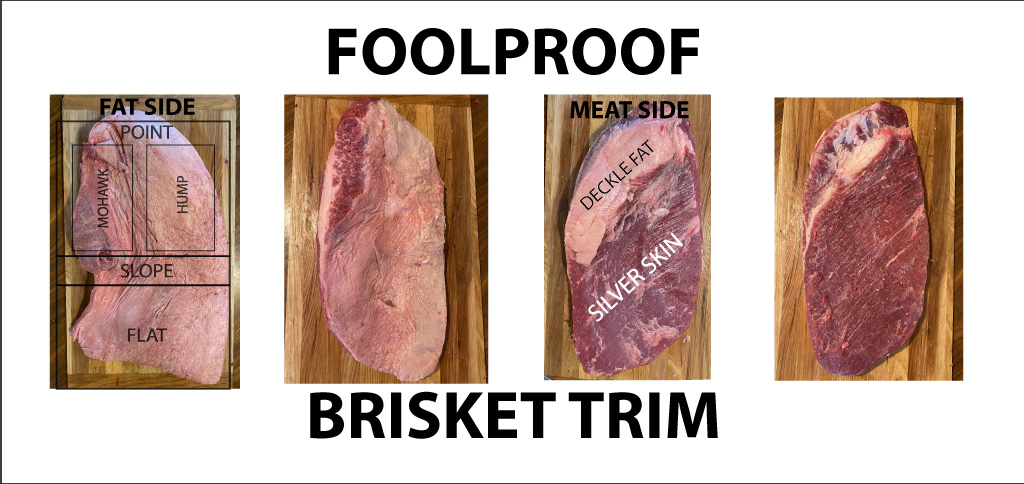 Remove the Deckle
The first step is to remove the deckle. The deckle is a layer of fat and muscle that lies between the brisket point and the flat. This layer can make the brisket difficult to slice, so it's best to remove it before cooking. To do this, simply make a lengthwise cut along the center of the deckle, then trim away any remaining fat and muscle.
Trim the Brisket Flat
Next, it's time to trim the brisket flat. The flat is a large, lean muscle that lies beneath the deckle. It's important to remove any excess fat from the flat, as this will help ensure that your brisket cooks evenly. To do this, start by trimming away any obvious layers of fat. Then, use a sharp knife to carefully remove any remaining bits of fat from the surface of the meat. Once you've trimmed away all of the fat, you should be left with a fairly even layer of meat.
Trim the Brisket Point
Finally, it's time to trim the brisket point. The point is a smaller muscle that sits atop the flat. It's commonly used for pulled beef sandwiches, as it contains a higher percentage of fat than the flat. As such, it's important to trim away any excess fat from the point before cooking. To do this, start by making a lengthwise cut along the center of the point. Then, use a sharp knife to carefully remove any bits of fat and gristle from the surface of the meat. Once you've trimmed away all of the fat and gristle, you should be left with a fairly even layer of lean beef.
How to Season Brisket
Seasoning brisket is an essential step in creating this delectable dish. While there are many methods out there, some are better than others. Here's a quick rundown of the most popular methods of seasoning brisket, so you can choose the best one for your next meal.
Dry Rub
One popular method is to coat the brisket with a dry rub. This is a mixture of spices that is rubbed into the meat before cooking. Dry rubs typically include salt, pepper, garlic powder and paprika, but you can also add other spices to taste. If you choose to dry rub your brisket, be sure to season liberally. Let the rub sit on the surface of the brisket for at least 4 hours - overnight is best, if possible.
Marinating (AKA the Wet Method)
Another popular method is to marinate the brisket in a vinegar-based solution. This helps to tenderize the meat and infuse it with flavor. There are a few schools of thought on how long to marinate brisket.
1 hour per pound of brisket - This is a good rule of thumb. If your brisket weighs 4 pounds, marinate it for 4 hours. If your brisket weighs 16 pounds, marinate it for 16 hours.
24 hours - Many people marinate brisket for 24 hours, flipping it after 12 hours, no matter what size it is!
48 hours - Some even marinate brisket for 48 hours! It is important not to marinate the brisket for too long, or the vinegar will start to break down the proteins in the meat and make it tough. I would say 48 hours should be the absolute longest amount of time spent marinating.
A couple of things to remember if you choose to marinate your brisket: Always marinate in the refrigerator and remember to let the brisket come to room temperature before cooking it.
Injection
Finally, some people like to inject their brisket with a flavorful liquid before cooking. This helps to infuse the meat with flavor without spending hours marinating. Most people prefer to inject brisket 1-2 hours before cooking. This is a great option because it also keeps the brisket moist during the cooking process.
Whichever method you choose, seasoning your brisket is imperative. Well-seasoned brisket will result in a delicious meal every time.
Cooking Brisket
When it comes to cooking brisket, there are a lot of opinions out there. Some people swear by the low and slow method, while others prefer to cook their brisket at a high temperature. The most popular way to cook a brisket is by smoking it over indirect heat on a grill. However, there are recipes all over the internet for brisket prepared in an oven, pressure cooker, slow cooker... I've even heard of brisket cooked in an air fryer! Our friends at Grillhound have written a great article about how to smoke brisket on a pellet smoker. Check it out!
So, what is the best way to cook brisket?
The answer may surprise you, but there is no one-size-fits-all answer to this question. The best method for cooking brisket will vary depending on the type of beef you are using, as well as your personal preferences. For example, if you are using a leaner cut of beef, you may want to cook it at a higher temperature to prevent it from drying out. However, if you are using a fatty cut of beef, the low and slow method will help to render out the fat and produce a more tender and flavorful piece of meat.
Ultimately, the best way to figure out how to cook brisket is to experiment until you find a method that works for you. Try different techniques and see how they impact the flavor and texture of the meat. And don't be afraid to ask your butcher for advice - they can usually give you some great tips on how to cook your particular piece of brisket.
How Long to Cook Brisket Per Pound
Again, there's no one-size-fits-all answer to this question, as the cooking time for brisket will vary depending on the size and weight of the brisket, as well as the type of cooker you're using. However, as a general rule of thumb, you should plan on cooking your brisket for about 30-60 minutes per pound.
If you're using a smoker or BBQ pit, you'll need to factor in additional time for the meat to reach the desired temperature. So, if you're planning on smoking a 5-pound brisket, you should plan on cooking it for at least 5 hours.
Brisket Temperature
The best way to know when your brisket is done is to use a meat thermometer. For safety purposes, the USDA recommends cooking brisket to an internal temperature of 145 degrees Fahrenheit.
However, from all of my research on the topic, pitmasters from around the world believe the optimal internal temperature for a brisket ranges between 180-210 degrees Fahrenheit.
A word of warning: If your brisket is frozen, you MUST thaw your meat completely before smoking it. If you smoke a frozen brisket, you will likely turn your brisket into a breeding ground for dangerous bacteria. The "Danger Zone" for brisket internal temperature is between 40-140 degrees Fahrenheit. So, be sure your meat is thawed completely and comes up to temperature (no less than 145 degrees Fahrenheit) during the cooking process.
How Long to Rest a Brisket
Any experienced barbecue chef will tell you that resting a brisket is essential to allowing the meat to reach its full potential. When cooked properly, a brisket should be tender and juicy, with a deep, rich flavor. However, if you attempt to slice and serve the meat immediately after cooking, all of those hard-earned juices will simply run out onto your cutting board. By giving the meat time to rest, you allow those juices to redistribute throughout the flesh, resulting in a more flavorful and moist final product. So how long should you rest a brisket?
As a general rule of thumb, plan on letting the meat rest for at least 30 minutes, and up to an hour if possible. This may seem like a long time, but trust me - it's worth the wait!
Tips for Slicing and Serving Brisket
To get the most out of your brisket, it's important to slice it correctly. The first step is to let the meat rest for at least 30 minutes after cooking. This will give the juices time to redistribute, making the meat easier to slice. When you're ready to slice, use a sharp knife to cut against the grain of the meat. This will result in thinner, more tender slices. Finally, be sure to let the slices sit for a few minutes before serving. This will allow the flavors to develop and the juices to reabsorb into the meat.
Brisket Recipes for All Occasions
Brisket can be enjoyed year-round. It is great to have at a summer barbecue. It can also keep you warm in the winter!
Here is a list of some of my favorite brisket recipes by my fellow food bloggers.
Grill/Smoker Brisket Recipes
Oven Brisket Recipes
Slow Cooker/Instant Pot Brisket Recipes
Creative Brisket Recipes
What to Eat with Brisket
One of the best things about having brisket is enjoying it with a variety of sides, or (if you are a Southerner like me) -"fixins."
Vegetables
Starches
Salads
Bread
What to Do with Leftover Brisket
Because briskets are often gigantic, it is likely you will have leftover meat. The good news is that brisket leftovers are the best! You can refrigerate and reheat the brisket for Brisket Night, Take 2. You can repurpose the brisket into an amazing new dish to enjoy. Or, you can freeze brisket and eat it in the future.
Reheating Brisket
Reheating brisket can be tricky. If you're not careful, reheating it can dry it out and make it tough. The key is to reheat brisket slowly and gently, using moist heat. Here are a few tips to help you get the perfect reheated brisket every time.
First, slice the brisket thinly against the grain (if it isn't already sliced). This will help to keep it from drying out as it reheats.
Next, preheat your oven to 275 degrees Fahrenheit and place the sliced brisket on a wire rack over a foil-lined baking sheet.
Then, lightly mist the brisket with water or beef broth. This will help to keep it moist as it reheats.
Next, tent the brisket with aluminum foil. Be sure to tent the foil loosely so that it doesn't touch the meat.
Finally, bake the brisket in the oven for about 30 minutes, or until heated through. And that's all there is to it!
Leftover Brisket Recipes
If you are more of a "one-and-done" cook, you may not want to relive your original Brisket Night. Fear not! Brisket is such a versatile ingredient - leftover brisket can be repurposed and used in a variety of different recipes. Get creative! Here are some recipes that may inspire you.
How to Freeze Brisket (Cooked)
To freeze cooked brisket, first allow it to cool completely. Then, wrap the brisket in plastic wrap or aluminum foil, making sure that it's well-sealed. I actually prefer to wrap the meat tightly in plastic wrap and then a layer of aluminum foil. Label the package with the date and contents, and then place it in the freezer.
When you're ready to use the brisket, thaw it in the refrigerator overnight. Then, simply reheat (using the steps above) and enjoy.
With proper freezing and storage techniques, you can keep cooked brisket fresh for up to four months. So go ahead and stock your freezer with this delicious and versatile ingredient.
Conclusion
Now that you know all there is to know about cooking brisket, it's time for you to try it out! What's your favorite way to prepare this cut of beef? Let me know in the comments below. And if you have any questions along the way, don't hesitate to reach out. I'm always happy to help. Until next time, happy brisketing!