Whether you are an experienced food blogger or someone who is just learning how to start a blog, it is important that you know about some essential tips, tricks, and resources every food blogger should have in their back pocket.
BOOKMARK THIS PAGE. You will want to come back often to reference this information as you build your food blog.
There are many moving parts in the blogging world. From hosting and webpage building, to photography, to social media and email marketing, to digital advertising - there is a LOT to learn!
I remember when I first started seriously considering blogging as a career a few years ago. I became overwhelmed quickly and put it on the back burner.
Then one day, I began. I started writing. That's all it took! I'm learning new things every day and guess what? It is not so difficult to learn how to start a blogging business. You just need the right resources! That is where I come in...
Every day is an opportunity to learn something. I have a whiteboard next to my desk and at the bottom, right next to where I sit, I have written the phrase: "What can I learn today?"
So many people feel like they have an immediate roadblock when just thinking about starting something new. Whether it is the fear of the unknown, impostor syndrome, or just plain negativity - STOP!
Self-doubt has no place in the blogging world! And you know what? When you start your blog, you won't have all the answers. No one starts in ANY industry knowing all the answers. We all make mistakes and learn from them. The only true way you will fail in this is by not starting or by giving up. Start now. Take your first steps to creating a life for yourself of which you have always dreamed and learn along the way.
Affiliate Disclosure: Some of the links on this blog are affiliate links, meaning, at no additional cost to you, I will earn a commission if you click through a product link and make a purchase.
Where To Begin
Congratulations! You have completed the first step in your journey to success!
You've chucked your self doubt out the window and you're ready to start!
Let's talk a little about the very first things you need to think about as you plan your blog.
First, I want you to answer these questions:
What will be the focus of my blog? - It is important to note that "food" is a very broad niche, so it would be better if you focused on one type of food or diet. For example: healthy recipes, 5-ingredient recipes, keto recipes, dessert recipes, etc.
Who is my target audience? - You must figure out who your target audience is and write your blog posts and recipes for them, not for yourself.
What do people want to learn within my niche? - In addition to your awesome recipes, figure out what people want to know about your niche. If you provide consistent and valuable information on your blog, your visitors will continue to come back.
How will I monetize my content? - There are many ways to monetize a food blog. Identify how you will make money from this blog. Examples include: display advertising, affiliate marketing, sponsored posts... the list goes on!
If you ask yourself the last three questions before you write every single blog post, you will ALWAYS write valuable blog posts and you will be more likely to rank on Google. Here is a handy printable of these questions that I designed in Canva. Print it out and hang it where you write.
Let's talk about how you can build your blog.
First, you must choose a domain name.
Your domain name might be the most important decision you make. It will define your blog and your brand. You will want to choose a domain that will be catchy and easy for your audience to remember.
Valuable Tip: I recommend doing a preliminary search of social media platforms to be sure no one already has your domain's handle. It was very important when I was considering Trendgredient as my food blog name that the handle @trendgredient was available on Pinterest, Facebook, Instagram, and Twitter (AKA "The Big Four"). Also, go ahead and sign up for accounts within "The Big Four" once you have established your domain name.
If you are at this step in the blogging process, be sure to check out the 15 Most Useful Tips For Naming a Food Blog.
I recommend using Bluehost's Domain Name Checker (below) to search for and decide on your perfect domain name. Give it a try now!
Next, you need to choose a web hosting service.
If this is where you are in your blogging journey, be sure to read about 5 of the Best Web Hosting Companies in 2021.
I want to just take a moment to sing the praises of my web hosting service, Bluehost.
Bluehost makes blogging so much easier. It has been one of WordPress' top-recommended hosts since 2005. It supports more than 2 million websites worldwide!
I love Bluehost because it easily and effortlessly connects to WordPress, which is my chosen website-building tool. The best part? It is super affordable with plans starting at $3.95 a month!
I use the combination of Bluehost + WordPress for my own blog and I am a very happy customer. Below I have dropped a clickable banner so you may sign up for web hosting today.
Build Your Website
After you choose your domain and hosting company, you need to choose your website building platform.
Like I said above, I use Bluehost and WordPress for Trendgredient. When building a website on WordPress, you must first build your infrastructure for your food blog using WordPress themes and plugins.
Once you have your theme and plugins in place, blogging will be so easy! You will just login and create.
WordPress Themes
The first thing you want to do after you set up your domain and hosting service is sign up for WordPress and choose a WordPress theme.
A WordPress theme sets the stage for your content. It is basically the layout of your blog and includes spots for content, pictures, navigational menus, social media widgets, and all of the other features you find on a website.
WordPress Plugins
Here is a list of my recommended WordPress plugins for food bloggers:
Yoast SEO - Yoast helps you write blog posts that will rank in Google.
WP Tasty - This is the best recipe writing tool in WordPress.
UpDraft Plus - Backup/Restore your site - definitely necessary! Don't lose all of your hard work!
Smush Pro - Smush compresses your image files so that your website will not run slowly.
Site Kit by Google - This is a "one stop shop" for Google blogging tools and analytics.
WPForms - This is the plugin I use to create lead generating forms on my website.
Akismet Spam Protection - This handy plugin filters out spam from user comments.
Everyone has a different suite of plugins that they prefer. My advice to you is to decide what factors are important to you in your blog (SEO help, recipes, image compressing, spam filtering, etc.). Once you know what you are looking for, be sure to install and activate plugins that meet the following requirements:
Have a large number of website activations
Are compatible with your chosen theme
Have been updated recently
Okay, you've built the infrastructure for your food blog. Now what?
Plan Your Photography Strategy
To be a food blogger, you MUST know how to take amazing photographs and videos. However, you do NOT have to be a professional photographer to get started!
There are ways to create mouthwatering images of food without being a professional photographer.
My recommendation: get a good camera, invest in a monthly subscription to Photoshop/Lightroom, and take a few online photography courses with iPhotography.
Recommended Cameras For Food Photography
Here is a list of recommended cameras and lenses that are often used by food bloggers.
Don't let this list of cameras scare you off! If you have a good smartphone, you can still start your blog!
If you do choose to start with your smartphone, I would definitely recommend signing up for Lightroom/Photoshop and taking a photography course at iPhotography.
Photo Editing
A fantastic photo editing tool is essential when you are starting a food blog. I highly recommend using the Adobe Creative Cloud to edit your photographs and videos.
I use Photoshop and Lightroom to edit all of my photographs. They are super easy to use and come with very detailed tutorials.
The best part: You can sign up for Photoshop AND Lightroom for just $9.99/month! Click below for more information.
Photography and Photo Editing Classes
An easy way to learn photography techniques, tools, and lingo is to sign up for an online photography course. I recommend iPhotography.
iPhotography offers fun, comprehensive courses that'll help you learn everything in photography from basic settings to advanced techniques. Interested? Here's the link:
Free Stock Photography
When I am writing an informative post (not a recipe post), I sometimes use free stock photography. Here are the two sites I use to get most of my stock photography images:
Both of these tools are super helpful if you need filler images. They both have thousands of images from which you can choose - all for free! It is, however, important to give photo cred to the photographer or repay them by following them on social media (this information pops up when you download the image).
A word of warning: When you write a recipe post, please do not use a stock image! You want to show your readers what the dish should look like if you follow the recipe. Stock photography used in this capacity will be very misleading to your readers and you will have a lot of trouble gaining users who trust you.
Furnish Your Kitchen
Make sure you have all of the essential tools you need in your kitchen in order to start your blog. I have two articles I have written which include my essential kitchen tools and how/why you should have them in your kitchen.
Expert Guide: Equip Your Kitchen For Less Than $200 - This is a list of essential kitchen tools that every cook and food blogger needs.
If you are planning on doing videos on your food blog, you may want to consider getting a set of "show tools." You know, kitchen tools that haven't been used a ton that look new and shiny (not rusty and worn).
The best part is that, with the list above, you can outfit your kitchen for less than $200!
Top 10 Best-Selling Kitchen Appliances - This was created as a holiday guide for the 2020 holiday season.
However, I thought I would share it here because it lists the top 10 best-selling kitchen appliances that people have in their kitchens.
People LOVE recipes that incorporate these appliances - it might not be a bad idea to have some of these in your kitchen (if you don't already).
It Is Time To Write
You've built your blog infrastructure. You have developed a photography strategy. Now it is time to start writing some blog posts.
The first thing that I always do before I start writing is perform keyword research. This is a crucial step in writing blog posts if you want to get a higher rate of traffic (which will result in a higher level of revenue).
What Is Keyword Research?
Keyword research is the process of researching and identifying words and phrases that are being searched by your target audience within Google. It is a fundamental step in the SEO process.
In food blogging, it is critical to know what your readers are researching. Although you likely have a broad range of recipe ideas, keyword research will tell you what recipes to focus on first, so you can grow the traffic to your website.
Why Is Keyword Research Important?
Keyword research helps you to identify:
What information your target audience wants to know about your blog post topic.
Keywords that have a high volume of searches and low competition (the SEO sweet spot!).
What Google wants from you so you can rank higher.
Blog post ideas that may not rank well. Or the keywords that will take your blog in a different direction that will allow your post to perform better
I use Keysearch - it is the most reasonably priced and comprehensive keyword research tool out there. If you have a limited budget, Keysearch is the way to go.
For food bloggers, Pinterest is another great search engine where you can find useful keywords. It is also useful to search for ideas on the Pinterest Trends page.
Writing To Make Money
Okay, now that you have done some keyword research, it is time to think about the purpose of your blog post/recipe.
The goal of your blog is to make money, correct? There are so many different ways to earn revenue with a food blog. Therefore, the number 1 priority is to identify at least one way to earn revenue with every single post.
Another word of advice: If you have a little bit of money to spend, you can outsource certain tasks on Fiverr to get the ball rolling. I wrote a whole article about how to hire a freelancer for your blog.
How To Write An Awesome Blog Post
You've identified your target keywords and how your post will make money. Next, you must write your post! Here are some tips for writing an awesome recipe blog:
Write a blog post that is informative, well-researched, helpful, and entertaining.
Open with a paragraph that tells a short personal story about how you came up with this recipe. Be sure to include your target keyword in the first paragraph.
Think about the questions people may ask about the ingredients, cooking process, or any other details of your recipe. Answer those questions in your post.
Write a long-form blog post (at least 1,000 words) that is easy to read, contains a lot of helpful information, and that is broken up with high-quality images and/or videos of your cooking process.
Be sure your recipe ingredients, measurements, and steps have been tested thoroughly.
Write your recipe using steps that are easy to follow. You are a food blogger - do not take shortcuts when it comes to creating value within your blog.
If an ingredient is not available in the grocery store, find a link (and become an affiliate!) so your reader and click and purchase the ingredient online. This will make your recipe more approachable and it may even result in some sweet affiliate income!
Always come back to your posts and update them, if necessary. I review my blog posts on a 3-month cycle, just to be sure they are still current and the links that are included in the text still work properly.
Be consistent. Have a schedule that you follow that works with your schedule. Don't promise three blog posts a week to your readers if you cannot fulfill that promise. It might be better to try publishing one blog every week or two, as you get to know the process. You may decide to increase your volume once you have established your ideal work flow.
A Food Blogger's Guide To Marketing And Advertising
I toyed with the idea of writing this section as a separate post because it contains so much valuable information. I ultimately decided to keep it here so this page is a "one stop shop" for all things a food blogger should know.
Marketing. Advertising. Two very powerful words. These two words have so much weight because they can make or break a brand.
Fear not! Food bloggers have SO MANY OPPORTUNITIES for achieving success in marketing and advertising. Allow me to help break it down for you so it won't seem so daunting.
I have worked in online marketing and advertising in some way since 2005, so let me show you some tricks of the trade.
Let's dive in, shall we?
Create Your Brand
At the very beginning of this post, we discussed the importance of identifying your niche and your target audience. Defining these two factors within your blog will help you to shape your brand.
Design A Logo
Your logo is how people will recognize your brand. You will include it on all marketing collateral and therefore, your logo needs to be well-designed.
Unless you are a professional graphic designer, I recommend outsourcing logo design using Fiverr. In fact, I recommend hiring a freelancer on Fiverr to free up your time and help with any blog tasks in which you are not an expert. I even posted an article about it called: Your Time is Valuable - Hire a Freelancer on Fiverr.
Fiverr has hundreds of talented freelancers for hire on contracted projects, such as graphic design. Click the link below to find a talented graphic designer to help you with your logo creation.
If you would rather give logo making a try yourself, I recommend using Canva Logo Maker.
Establish Your Social Media Presence
Once you have your logo, you can begin to build your social media presence.
I hope you have been able to secure your brand handles in each of "The Big Four" social media platforms (Pinterest, Facebook, Instagram, and Twitter).
Set up a profile picture on each platform - a logo or personal picture (if you want to be the face of your brand). Complete the basic profile requirements for each profile - description of your business, location, etc.
Invite your friends and family to like your pages (if that is your preference).
Develop Your Social Media Marketing Strategy
Social media is one of the most valuable resources a food blogger can leverage when trying to promote their blog.
There are a couple of different ways to attack your social media strategy.
First Strategy
Choose a social media management tool to help you release posts consistently across all of your social media accounts.
Pro: This strategy allows you to build your audience dynamically and simultaneously across the world of social media.
Con: Although this strategy is the most comprehensive way to build your social media presence, it is very difficult to master by yourself. A social media management tool is imperative.
Each social media platform has a different formula for success.
With Pinterest, you must create pins to promote in their robust visual search engine tool.
In Instagram, it is important to make your posts searchable using hashtags.
On Facebook, videos get the most attention.
Twitter is more content-driven, so it is best to craft attention-grabbing tweets to gain traction.
This is enough to make someone's head spin! What is the solution?
Enroll in a social media management tool. There are several on the market, but my personal favorite is Sprout Social. Not only is it a dynamic social media scheduler, but it tracks your social media efforts and provides you with high-quality and customizable analytics.
You can start a free 30-day trial of Sprout Social today. It is truly comprehensive and takes social media management to a new level.
Second Strategy
Choose one or two social media platforms and DOMINATE them.
Another strategy to help you build a strong social media presence is to choose one or two social media platforms and become an expert in them. Once you have mastered them, add another platform, and so forth.
Pro: This approach can be more manageable than trying to conquer The Big Four.
Con: By limiting your social media presence to one or two platforms, your blog's social media audience does shrink substantially.
This strategy is just fine, but you may want to consider incorporating a tool that will help you grow your audience on the one or two platforms in which you choose to specialize.
Food bloggers often choose Pinterest and Instagram with which to start. There are a few reasons for this.
Pinterest is a haven for food bloggers. Most food bloggers get the majority of their traffic just from Pinterest.
Instagram is so important if you want to promote your blog as an influencer and reach an audience in a younger demographic.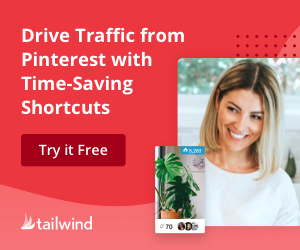 Tailwind
I use an awesome tool called Tailwind to manage my Pinterest account.
Tailwind is a Pinterest-endorsed pinning tool has many different features:
Pin Scheduling - Create a Pinterest pin schedule that is tailored to your specific audience's engagement. In short, your pins will show up at the times in which your audience is active on Pinterest. You can also schedule pins months in advance. So, if you are swamped one week, you can rest assured that your Pinterest profile will not fall by the wayside.
SmartLoop - Tailwind has a tool called SmartLoop which allows you to set your pins up on a loop for specific periods of time. For example, if you are trying to promote a few pins for a Christmas cookie recipe, you can set up a SmartLoop which will help you promote your pins during specific dates throughout the Christmas season.
Tailwind Communities - Another great feature in Tailwind is Tailwind Communities. Tailwind Communities are groups of people (mostly businesses and bloggers) that save and share their pins within their community. This feature in Tailwind is a great way to grow your Pinterest following. You share your pins in your Communities and other bloggers share them to their audiences. Sometimes, your pins get shared by people with over 100K followers! This is great exposure for your blog In return, you share other food bloggers' pins with your Pinterest audience.
Tailwind Create - This is a brand new feature in Tailwind and one that I have enjoyed using with my own Tailwind account. Tailwind Create enables you to auto-generate Pinterest pins using images on your blog post. All you have to do is enter the URL of your blog post and Tailwind Create uses the data from your blog to create beautiful and attention-grabbing (and editable) pins that you may promote on Pinterest. It has been a game-changer for my own Pinterest strategy.
There are many other neat features included with Tailwind. Click below if you would like to give Tailwind a free test drive.

Third Strategy
Choose to manually build and promote your social media profiles.
I'm a realist, I know not everyone is jazzed about using a service to grow their social media presence. Some people just prefer to grow their social media themselves.
Pro: You will not paying a monthly fee for a service.
Con: You will be spending a LOT of your time manually growing your social media traffic, formatting social media posts, scheduling social media posts, trying to grow your followers, and NOT creating content.
My biggest concern for you with this strategy is your time. Do you want to spend 20% creating content and 80% promoting your page on social media? Or do you want to increase your time spent on your own original content and only use social media occasionally?
Just a note: I have been able to research, write, and publish this giant post ONLY because my social media is under control.
Email Marketing
Another way to capture your audience and deliver quality content consistently is through email marketing. Bloggers have a lot of success growing their email lists using email marketing. When you have a large email list, your opportunities for audience engagement increase exponentially.
I recommend using ConvertKit to grow your email list. Email marketing is a super useful way to:
Capture, grow, and communicate with your audience.
Announce when you have a new blog post.
Offer special recipes, deals, tips, or other perks to your subscribers.
Promote products (either affiliate or proprietary) to your subscribers.
Humanize your blog - email subscribers love getting a peek into the life of their favorite food bloggers.
ConvertKit is the perfect tool that allows you to do all of these things. They have a free version for bloggers who are just starting out. They also have monthly subscriptions available as you grow your email list.
A Head's Up Regarding Paid Advertising
This is a commonly debated topic in the blogging world.
Do I need to pay for advertising?
There isn't a definitive answer to this question, but I will give you my own opinion.
If you choose to spend some money on advertising, don't spend a lot.
I have seen a lot of success boosting posts on Pinterest with a few of dollars a day. I usually boost my new pins for $3/day for 3 days.
However, if I were starting a blog now, knowing what I know, I would invest time in SEO/keyword research and I would invest my money in the following places:
Learn, Learn, Learn!
Finally, I have one last piece of information I want to share with you. The final piece in this blog post is about learning. To be a successful food blogger, you must always find ways to learn new things about your craft. The blog world and food world are both forever changing.
Don't fall behind the curve! It is a food blogger's job to stay ahead of the curve.
Below are some valuable resources that have helped me on my food blogger journey. I hope you find them as useful and valuable as I have.
Useful Books
Useful Websites
Resources Mentioned In This Article
Cheers To You, My Dear Food Blogger Friend!
I hope you have found this article about how to start a food blog helpful and informative.
Please leave me a comment below if you have any questions, comments, or awesome success stories!
If you ever need anything at all, please do not hesitate to email me at [email protected].
I wish you the best of luck and happy blogging! 🙂